Request a copy of the Scale Software Buyer's Guide
The Scale Software Buyer's Guide is for anyone running an operation ranging from one or more scales at a single location, numerous scales across multiple sites and states, or countrywide.
Are you an Owner/Operator, Weighmaster, Operations Manager, or part of an Accounting or IT team?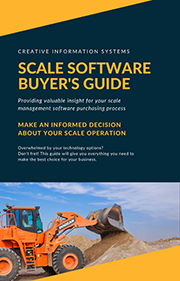 Anyone interested in making their scale operation more efficient, effective, or looking to find cost-savings or increase capacity will benefit from the information provided.
This guide was created to provide helpful tips for you to get your wheels turning about the possibilities available to you through a comprehensive scale software solution.
If you're looking to buy comprehensive software for the first time, considering changing your current solution, or unsure why you should look into new software to go beyond the basic capabilities you currently have, this guide is for you.