Scale to Revenue
Easily turn scale tickets into customer invoices, save time billing, and get paid faster.
Connect Your Apps
We created SMSTurbo Online to make scale ticketing easy for operations that want simple and cost-effective scale software. We chose to integrate with QuickBooks Online to make accounting at your scale house easier too. You can run all of your ticketing and accounting through a web-browser with a limited amount of setup.
Connecting SMSTurbo Online with your accounting system requires minimal effort. All you need is a QuickBooks Online account (sold separately from SMSTurbo products) and your QuickBooks login information to get started.
Under Company Settings, you have the ability to connect your QuickBooks Online account.

Setting Up Customers and Materials
Before you export tickets, you will need to set up customers and materials in both SMSTurbo and QuickBooks. Please see our documentation on how to properly setup customer accounts and materials so you can start invoicing.

Exporting Tickets
SMSTurbo Online allows users to export ticket data into QuickBooks Online and create customer invoices.
Once tickets have a status of "Completed" they are available to export to an invoice. You can export tickets by customer, date range, or all tickets available for export to QuickBooks. Once you export, they will no longer be available for export on the Accounting tab.

Disconnecting the App
You can disconnect the SMSTurbo Online app from QuickBooks Online at any time. You will not lose any tickets or invoices, however, once you disconnect you will no longer be able to export ticket data.
1) Within the SMSTurbo Online App, under Company Settings, you can click "Disconnect."
2) On the apps.com page, under My Apps, you can find SMSTurbo Online and click "Disconnect."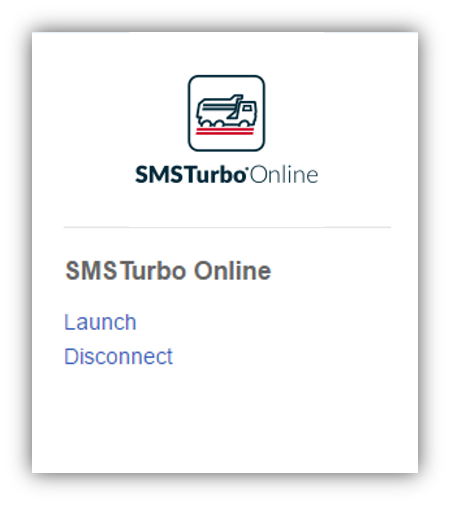 You can reconnect SMSTurbo Online and QuickBooks Online under Company Settings and continue using the integration.